Our next event
May 2023 OPuS at BookMachine Unplugged Live! The Publishers' Sustainability Survival Guide
OPuS is thrilled to be partnering with BookMachine for their second in-person BookMachine Unplugged Live! event of 2023, and offering free tickets to attend to all OPuS members.
On Wednesday 17th May, from 6–9pm, come along to Blackwell's Broad St in Oxford City Centre for a practical and down-to-earth discussion about what the publishing industry can do to build more sustainable businesses and futures. There are details on the poster below of the speakers or you can read more on the BookMachine website.
Click here to book your ticket, and apply the code guest2023 at checkout for your free access as an OPuS member. If the link above does not work, copy and paste this hyperlink into your web browser instead: https://bookmachine.org/event/the-publishers-sustainability-survival-guide-bookmachine-unplugged-live-2023/?utm_source=social&utm_medium=post&utm_campaign=partner
If you can't make it in-person, pick up a free digital ticket using the same coupon code, and you'll get the professionally-edited recording within 2 weeks of the event date. The recording will also be shared with all in-person ticket holders.
For further details about accessing the venue or the recording, contact our friends at BookMachine - [email protected].
See you there!
PREVIOUS EVENTS
September 2022 Demystifying The Author-Editor Relationship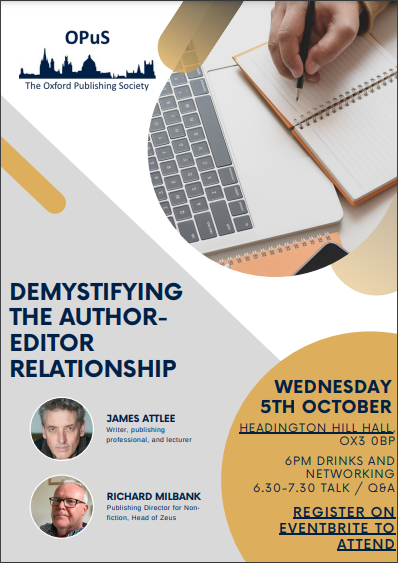 Wednesday 5th October
6pm Drinks and networking
6.30-7.30 Talk / Q&A
How do authors and editors work together to achieve a common goal of producing the best book possible? What does a good editor bring to the table? And what are the potential pitfalls?
A large number of you joined us for our October event, where writer James Attlee and publisher Richard Milbank brought their wealth of experience in the publishing industry to a discussion of this enigmatic and collaborative partnership.
Speakers Bios:
James Attlee is a widely published writer specialising in creative non-fiction, travel and art. His book Isolarion: A Different Oxford Journey (Chicago, 2007/Transworld 2009) reveals another city to the one depicted in Brideshead or Inspector Morse and recently came out in a new edition (And Other Stories, 2020). Nocturne: A Journey in Search of Moonlight (Penguin, 2011) celebrates the shapeshifting light of earth's nearest neighbour. James was shortlisted for the Stanford Dolman Travel Book of the Year for Station to Station (Guardian Books, 2015) and won the New Media Writing prize with his locative fiction app The Cartographer's Confession (2017). In Guernica: Painting the End of the World (Head of Zeus, 2017/pb 2021) he explores the genesis and subsequent journeyings of Picasso's most famous painting, while Under the Rainbow: Voices from Lockdown (And Other Stories, 2021) is a unique, first-hand report from the Covid frontline.
James's career in the publishing industry has included a decade as sales and rights director of Tate Publishing in London and editor at large (UK) for the University of Chicago Press. He continues to work as a developmental editor for publishers on projects that require extensive revision and sensitive liaison with authors, as well as mentoring authors and providing publishing consultancy to arts institutions. His journalism has appeared in the Independent, Frieze, Apollo, and the LRB among other publications. He teaches creative writing at Oxford Brookes and Ruskin College and starts this month as a Royal Literary Fund Fellow at St. Hilda's College, Oxford.
Richard Milbank has worked in publishing since 1985. He spent the first twenty years of his career as an editor and publisher of reference books, before moving into narrative non-fiction in 2006. A former publishing director at Weidenfeld & Nicolson, Quercus and Atlantic Books, he is currently Publishing Director for Non-fiction at Head of Zeus, where he has worked since 2012.
April 2022 Meet and Mingle Online: BookMachine & Oxford Publishing Society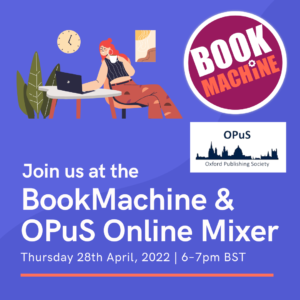 Thursday 28th April, 6-7pm
Our first online mixer of the year with the brilliant people at BookMachine!
More details and sign-up here:
https://bookmachine.org/event/meet-and-mingle-online-bookmachine-oxford-publishing-society/
April 2022: Open Access Books: Unfinished Business? 
Tuesday 12th April 2022
6–7PM
Zoom
Register now to attend: https://tinyurl.com/oxpubsoc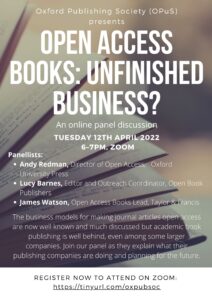 An online panel discussion
Panellists:
Andy Redman, Director of Open Access, Oxford University Press
Lucy Barnes, Editor and Outreach CoordinatorOpen Book Publishers
James Watson, Open Access Books Lead, Taylor & Francis
The business models for making journal articles open access are now well known and much discussed but academic book publishing is well behind, even among some larger companies. Join our panel as they explain what their publishing companies are doing and planning for the future.
March 2022: Independent Publishers: Nice Niche or Vital Necessity?
With representatives from independent publishers spanning adult trade, children's and academic books, this was an event not to be missed!
In association with Oxford Indie Book Fair
With a number of high-profile company acquisitions, it can seem that It can seem that publishing these days is dominated by consolidation. However, the UK has a burgeoning indie press scene – often minimally staffed and funded, a growing range of small presses are investing in new authors, taking new risks and bringing unheard voices to the fore.
Our panel discussed the exciting work they are undertaking and reflecting on the role of independent publishers today.
This event was in association with the Oxford Indie Book Fair – their second event will be held on Saturday 2nd April 2022 at Wesley Memorial Hall, New Inn Hall Street, Oxford. More details here: https://www.oxfordindiebookfair.co.uk/ James Harrison, of the Oxford Indie Book Fair, Oxfordfolio and Anglepoise Books will be telling us more about this upcoming event on the night.
Confirmed speakers:
Katie Isbester, founder of Claret Press, a micro publisher of stories about politics, issues and places
Aleida Gomez de Caso, founder of Peculiar Press, an Oxford-based publisher making bilingual, illustrated books for children
Marion Berghahn, Publisher and Editor-in-Chief for books at Berghahn Books, a publisher of distinguished scholarly books and journals in the humanities and social sciences
November 2021: Early Career Researchers
Supporting the Next Generation: An insight into Early Career Researchers and Scholarly Publishing
Monday 29th November 2021
Early Career Researchers (ECRs), researchers who are still in a degree programme or are within the first five years of completing their doctorate, are a fundamental and growing part of the research landscape. Supporting and developing ECRs has always been a key factor in Scholarly Publishing ensuring not only the best and most recent research is published, but also to ensure the next generation of scholars are involved. As the Scholarly Publishing landscape has changed and continues to change, the needs of ECRs have changed with it, but their importance remains the same.
Our excellent panel discussed the current experiences, challenges, opportunities, and data behind ECRs in Scholarly Publishing. From what ECRs ask editors, to how publishers can support and encourage ECR submissions, to an insight into research into ECR experiences.
Speakers:
Greg Stiles
Greg Stiles is an ESRC funded PhD student in the School of Politics and International Studies at the University of Leeds and the Editor of Global Policy: Next Generation, a peer-reviewed annual issue of the journal Global Policy that is designed to facilitate and support Early Career Researchers through the academic publishing process.
Lizzie Brophy 
Lizzie Brophy is a Social Sciences Publisher at Wiley managing the European Politics, Policy, & Law Journal portfolio. Before joining Wiley, she completed her DPhil in Classical Archaeology at Keble College, Oxford.
Anthony Watkinson
Anthony Watkinson has been a librarian and an STM publishers and for some time now and he has been a information scientist since 2016 with grants for work on early career researchers as principal consultant to CIBER Research which he co-founded in 2002. He is a visiting researcher at University of Tennessee Knoxville, a research associate at Oxford Brookes and is former senior lecturer in the Centre for Publishing at UCL (now honorary)
November 2021: Short Stories, Big Impact
An online panel discussion
Short form fiction is having a renaissance. With the rise of digital and social publishing platforms, the ubiquity of mobile devices and the increasingly fast pace of entertainment, short stories offer something ideally suited to the modern reader.
Our panel gave a lively discussion of publishers' changing attitudes to this medium, some of the literary prizes on offer for short stories, and authors' personal experiences of writing and publishing them.
Speakers:
Sarah Franklin
Sarah is founder and host of popular Oxford literary night, Short Stories Aloud, a Senior Lecturer at the Oxford International Centre for Publishing Studies, and a judge for the Costa Short Story Award. She was awarded a mentorship under the Jerwood/Arvon scheme to work on her debut novel, Shelter, published by Bonnier Zaffre in July 2017. Her second novel, How To Belong, is out in paperback on Thursday 11th November.
Melanie King
Melanie has been the administrator and first reader for the Mogford Prize since 2014. She has a degree in International Relations, and after working with refugees in Thailand,  studied for an MPhil at the Refugee Studies Programme In Oxford. She worked as a journalist for The Nation newspaper in Bangkok, worked in the publications department at Chatham House (Royal institute for International Affairs) and wrote and produced a newsletter for the Refugee Council. Although not a writer of fiction, she is an avid reader of different fiction genres, and has published 8 non-fiction works.
Carys Bray
Carys was awarded the Scott Prize for her debut short-story collection, Sweet Home. Her first novel, A Song for Issy Bradley, was chosen for Radio 4's Book at Bedtime and was shortlisted for the Costa First Novel Award and winner of the Authors' Club Best First Novel Award 2015. She lives in Southport with her husband and four children. Her third novel, When the Lights Go Out, has just launched in paperback.
Register in advance for this meeting:
https://us02web.zoom.us/meeting/register/tZEvdeytqDIoEtEglU9DtRUyrWFYKumf_10a
October 2021: International Perspectives
An online panel discussion
Tuesday 12 October
'The UK publishing industry has a turnover of £6bn, with export income accounting for almost 60% of revenues. The UK is the largest exporter of books in the world.'
- Publishers Association
UK publishers have always operated with an export mindset. Understanding international markets is critical to make a success of publishing operations: commissioning the right content, rights allocation, distribution, and marketing and selling the right products to the right customers.
Focussing on three geographic areas – Europe, China and the Middle East – our panel will talk through the distinct qualities of their landscapes, from their experiences of operating in these areas. Analysing: What are their market sizes? What is distinct about their regional, 'indigenous' publishing? Who are the competitors? What are their unique strengths, weaknesses, and opportunities? How are publishers innovating in those regions?
Speakers:
Anne Bergman
Director, Federation of European Publishers
After her master in medieval history from Brussels Free University, Anne diversified her interests by graduating also in public relations before starting as a free-lance in agencies as well as working as a journalist. She joined the Federation of European Publishers in 1990, and soon after, she went back to university's benches to study law and in particular copyright law both at her Alma Mater and at King's College. Since 2004, she is the Director of the FEP.
Alex Robinson
Vice President & Commercial Lead: UK, Europe, & Middle East, Taylor & Francis
As VP for the UK, Europe, and the Middle East, I work across all products and services at Taylor & Francis regardless of format – including print and e-Books, journals, digital resources, and our broad range of Open Access offerings. I focus on ensuring that these products and services continue to meet the evolving needs of our academic and professional customers across the region.
Alicia Liu
Alicia is the Founder and Managing Director of Singing Grass, a business consultancy advising on access and development strategies for the Chinese market. Alicia has worked in Beijing, Shanghai, Hong Kong, New York and London, and has provided consultancy advice on China in numerous capacities. She has been a senior advisor to major international cultural and entertainment corporations including the London Book Fair, Beijing International Book Fair, BBC Studios, LEGO Group, Phoenix Publishing and Media Group and Hachette Children's Group.
Singing Grass is a business consultancy advising on access and development strategies for the Chinese market. SG provides in-depth research and insight, advises on business strategy and local partnerships, and manages PR and networking strategies for brands to maximise their potential in China.
July 2021: The Future of ELT
Digitization and Diversity, Equity and Inclusivity
Oxford Publishing Society was excited to host our July online panel event in conjunction with ELT Publishing Professionals: the future of the ELT industry. Focusing on the areas of Diversity, Equity and Inclusion and Digital Teaching and Learning, our expert speakers outlined their vision of where the ELT industry will be in five years' time.
Speakers:


Peter Fullagar is a freelance ELT and DEI writer, editor and consultant. With over 17 years of teaching experience, he now works to create exceptional and inclusive content. His interests include LGBTQ+ issues, humanism and the life and work of Virginia Woolf.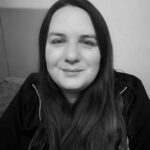 Lottie Galpin is a freelance ELT/ DEI editor, writer and consultant. Her work focuses on creating inclusive, accessible materials that truly engage students. Her areas of interest include: socio-economic status, mental health and neurodiversity.

Liz Marqueiro provides ELT and Diversity, Equity and Inclusion writing, editing and consulting to a range of organisations. She focuses on making materials better reflect and engage learners and teachers. Her main areas for inclusion and equality are weight stigma, LGBTQIA+ families and gender equality and being an active ally to other marginalised groups.

Billie Jago is an ELT Writer, consultant and teacher trainer who creates digital learning materials and assessment resources for publishers including National Geographic Learning, Pearson and Cambridge Assessment. She has worked in the ELT industry for 10 years and has taught and teacher trained internationally in countries such as China, Spain, Italy and Cambridge in the UK, where she is now based. She is the founder of the ELTcpd professional development podcast for English Language professionals.
In association with:

May 2021: Publishing & Job-hunting in a Pandemic
Navigating the job market in a global pandemic is no easy task and requires new graduates and early-career publishers to adopt a different approach in such uncertain times. Without office-based work experience or in-person networking opportunities, and with new virtual recruitment processes, how do you approach building your Publishing career?
Our panel shared their personal experiences of upskilling, applying, interviewing, and onboarding for new jobs remotely, all against the backdrop of the past year's events – and offered their advice for those currently job-hunting. This was then followed by a panel discussion and Q&A with Publishing recruitment specialists Atwood Tate, reflecting on the changing landscape of finding work in publishing today.
Panellists:
Caroline Guillet, Editorial Assistant at Bloomsbury Publishing Plc and SYP Oxford Co-Chair
Ella Thompson, Editorial and Marketing Assistant at World Intellectual Property Organization
Karine Nicpon, Lead Consultant at Atwood Tate
Chair:
Dr. Miriam Johnson, Senior Lecturer in Publishing at Oxford Brookes University
November 2020: Anti-racism and Scholarly Publishing
The second event as part of Oxford Publishing Society's new 'The Big Questions' series where we discuss some of the most pressing issues affecting the industry today.
Join our panel to discuss anti-racism within scholarly publishing and how to improve diversity and inclusion in the industry. We'll be hearing from speakers about actions taken to diversify prominent journal editorial boards, employee-led anti-racism initiatives at Elsevier, and anti-racism resources from the Society for Scholarly Publishing.
Thursday 19th November
6-7pm GMT, online panel (Zoom)
Register on Zoom: https://us02web.zoom.us/meeting/register/tZMscemrpzkpHtECMC2pxEBMOFgcqAgiEm9c
Speakers
Melanie Dolechek, Executive Director of the Society for Scholarly Publishing
Melanie has been active in scholarly publishing since 2006, previously serving as the Director of Publishing and Marketing of Allen Press. She is the Convener for the Coalition for Diversity and Inclusion in Scholarly Communication. Melanie holds a Master of Science in Management from Baker University, a Bachelor of Fine Arts from Kansas State University, and is a Certified Association Executive.
Niccole Leilanionapae'aina Coggins, editorial, design and production coordinator and assistant project editor for the University of Virginia Press
Before UVA, she was a Mellon University Press Diversity Fellow at the University of Washington Press where she combined her lifelong interests in racial identity and indigenous sovereignty working on books in Asian American and Indigenous studies, and American and environmental history. She is a PhD candidate in history at the University of California Santa Barbara.
Axelle Ahanhanzo, Customer Success Manager for Corporate Markets in France and Southern Europe, Elsevier. Co-Founder of Embrace, an Employee Resource Group (ERG) focused on Race, Ethnicity and Culture.
Axelle holds a Bachelor in Modern Languages and European Studies from the University of Birmingham, UK and is currently completing a masters in Corporate Communication at the University of Amsterdam, Netherlands.
Dr. Heejung Chung, Reader in Sociology and Social Policy, University of Kent, and Associate Editor of Wiley Publishing journal Social Policy & Administration
Heejung's research interest lies in cross-national analysis of welfare states and their labour markets, focusing on gender equality and work-family reconciliation policies. She has extensive experience publishing and editing journals/books. She is currently the Associate Editor of the journal Social Policy & Administration, for which she has been on the editorial board since 2015. She is also on the board of the journal Korean Journal of Welfare States, and is the co-editor of the Policy Press book series Research in Comparative and Global Social Policy. She has been in the Associate/Editorial board of the British Sociological Association journal Work, Employment and Society (2011-2015).
Register in advance to attend on Zoom: https://us02web.zoom.us/meeting/register/tZMscemrpzkpHtECMC2pxEBMOFgcqAgiEm9c
Previous events
September 2020: Accessibility: is Publishing Doing Enough?
Our panel discussed accessibility and disability inclusion in publishing – from creating content accessible to all, to making the workplace, roles and wider industry more accessible.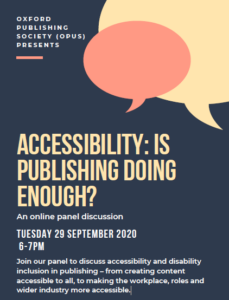 Tuesday 29th September
Speakers:
Ruth Wells, Founder at Inventing Change
Simon Holt, Publisher for Micro & Nanotechnology books at Elsevier
Erin Osborne-Martin, Senior Society Partnership Manager at Wiley
Bill Kasdorf, Principal of Kasdorf & Associates, LLC
This was part of Oxford Publishing Society's new 'The Big Questions' series where we discuss some of the most pressing issues affecting the industry today.
A recording of this event was made - if you are a member and wish to watch it, please contact us.
Speaker bios
Ruth Wells, Founder at Inventing Change
Ruth has 20 years' experience in academic publishing including roles in technology, operations and sales. She is now an innovator in publishing and social change, and an advocate in mental health after a severe mental health episode. She shares her ideas through her blog and is currently working with charities and related organisations aiming to solve homelessness and poverty. She also helps lead Publishing Inclusion Enabled, who are a group focused on creating true inclusion and diversity in our industry. Ruth offers a practical approach to cultural change based on personal experience, and has written a book on leadership published on her website.
Simon Holt, Publisher for Micro & Nanotechnology books at Elsevier
Alongside his Publisher role, Simon leads Elsevier Enabled, the organization's disability employee group. He works to promote a more disability confident and inclusive publishing industry, and has worked across the industry to further this cause, working with organizations including ALPSP and the SSP. He has published several articles in the Scholarly Kitchen, including The Problem Solvers You Don't Know About Yet, on disability inclusion in the publishing industry.
Erin Osborne-Martin, Senior Society Partnership Manager at Wiley
Erin has worked in scholarly and learned society publishing for more than 15 years, with a focus on editorial, business development, and strategic market analysis. She is a peer mentor at the Backup Trust, a spinal cord injury charity, and a speaker on disability representation and visibility within and outside the publishing industry. Erin also works with Transport for All to make public transportation more accessible to people with disabilities.
Bill Kasdorf, Principal of Kasdorf & Associates, LLC
Bill's consultancy focuses on editorial and production workflows, XML/HTML/EPUB modeling, information infrastructure, standards and best practices alignment, and accessibility. He is a founding partner of Publishing Technology Partners. Bill is active in the W3C (as the W3C Global Publishing Evangelist and serving on the Publishing Working Group, Publishing Business Group, and the EPUB 3 Community Group) and co-chairs NISO's Video & Audio Metadata Guidelines Working Group. He is Past President of the Society for Scholarly Publishing (SSP). He is a member the Book Industry Study Group (BISG), serving on BISG's Workflow Committee, the International Press Telecommunications Council (IPTC), and the DAISY Consortium for accessibility. He is the recipient of the SSP Distinguished Service Award, the BISG Industry Champion Award, and the IDEAlliance/DEER Luminaire Award. Bill has written and spoken widely on publishing technology and workflows and accessibility. He is general editor of The Columbia Guide to Digital Publishing and co-editor of the BISG Guide to Accessible Publishing, and serves on the editorial board of Learned Publishing, having guest edited the January 2019 issue devoted to accessibility. In his consulting practice, he has served large international publishers such as Pearson, Cengage, Wolters Kluwer, Kaplan, and Sage; scholarly presses and societies such as NEJM, the National Academies Press, Harvard, MIT, Toronto, Taylor & Francis, Cambridge, IEEE, the American College of Physicians, and the Cochrane Library; aggregators such as VitalSource; and global publishing and library organizations such as the World Bank, the British Library, the Asian Development Bank, OCLC, ORCID, and the Publishing Office of the European Union.
May 2020: Technology and Publishers: Making It Work
Oxford Publishing Society's summer online event was all about improving communication between technology and publishing professionals - in-house and externally.
The convergence of print and online has blurred the boundaries between traditional publishing and digital media across all sectors– and the current crisis has massively increased demand. Forward-thinking publishers are constantly looking at ways to market or deliver content across a range of digital channels – and working closely with their technology colleagues and/or forming partnerships with tech organisations. But do both sides always understand each other and work together effectively?
How can publishers hone their digital skills and tech expertise?
How can they best communicate their publishing and customer needs to technology colleagues or partners?
How can technology departments and organisations help publishers better understand their processes and workflows, manage expectations, and ensure the best outcomes?
Our online panel discussed their own experiences, gave advice, and discussed how the publisher–technology relationship is continuing to evolve.
Speakers:
* Nick Barreto, Technology Director, Canelo
* Rebecca Reddecliffe, Product Manager, Wiley
* Nick Robinson, Co-founder, LearnJam
* Laura Summers, Co-founder, BookMachine
If you are a member and would like a recording of this event, please contact us via the homepage.
April 2020: Freelancers and In-House Editors: Making It Work
A collaboration with Oriel Square
Over 70 members joined for OPuS's inaugural online panel discussion via Zoom! We were so pleased to be able to keep providing the Oxfordshire publishing community with insights and useful information, even under lockdown.
Here is a summary of the event:
Publishing has never been more reliant on outsourced professionals – and the freelance workforce has grown exponentially in recent years. This affects no one more so than editors – in 2015, Nielsen reported that 74% of publishers' editorial departments outsourced services to freelancers.
How can editors hone their project management skills and ensure that they are communicating well with freelancers at both briefing stage, and as a project develops?
How can freelancers develop their skills further when working outside of a publishing house?
How can each side work best with each other and manage their time when collaborating on a range of varied projects?
Our online panel discussed their own experiences, gave advice, and discussed how the publisher–freelancer relationship is continuing to evolve.
This event was in collaboration with Oriel Square:
Oriel Square turns opportunities into publishing. Like you, we are immersed in the policy and the market. Like you, we follow and contribute to the conversation. We'll help you find opportunities to grow your list, and we'll use our three-phase model to develop concepts into proposals, and proposals through to publication. Take a look at what we've been doing recently in our latest termly newsletter. We also offer in-house, bespoke training courses across a variety of themes. Get in touch and from our very first meeting, you'll see the impact Oriel Square can have.
***********************************************************
NEWSFLASH
***********************************************************
Oxford Publishing Society is taking its events programme online!
Even in the face of these unprecedented times, OPuS want to ensure that we are still able to meet the needs of our membership and get you access to great speakers and discussion of contemporary issues affecting the Publishing industry.
Stay tuned - announcement about our first ever webinar event coming very soon!
Previous events
February 2020: Poetry in Motion: Publishing & Poets Today
Thursday 13th February
One of the oldest and most traditional literary forms is finding a new resonance in the 21st century - and in the digital space. With great double digit growth of poetry sales over the past 5 years and the rise of viral 'Instagram poets', a genre once thought to be niche is having a renaissance.
As well as a specially pre-recorded introduction and reading from Michael Schmidt, Managing Director of Carcanet, we were also joined by Ben Parker-Jones, poet and UK Assistant Marketing Manger at Berghahn Books. As well as reading from his own work, Ben explored these developments, and discussed his experience of being published as a poet. We very much appreciated the audience's spirited involvement in the Q&A and patience with the unavoidable cancellations that affected this event.
November 2019: The Future of Social Media for Publishers
The Future of Social Media for Publishers
Social media is a fast-changing landscape – beyond simply having a single Twitter account or a Facebook page, publishers and their authors are increasingly able to interact directly with their readers within social platforms. Peoples' habits around social media are shifting constantly too, for example moving toward more visual content.
How are social media roles in publishing and their focus changing as the industry adjusts to these new kinds of engagement? How can choice of platform be decided to fit with the author and/or the content a publisher is working with? Which platforms are growing and how can publishers capitalise on this and build communities online?
Focusing on their own experience in an industry needing to stay ahead of the curve, our panel of 3 speakers gave some unique insight into this vital issue in publishing. This was essential listening with some great viewpoints on how publishing professionals expand their digital marketing, the increasing importance of data, and this can influence publishing strategy.
Speakers:
Leanne MacDuff – Consultant, Content & Social Media Marketing Campaign Strategist / Social Media Manager, Oxford University Press
Bethany Farr – Social Media Manager, Taylor and Francis Group
Leena Norms – Social Media consultant, Podcaster, Youtuber / Social Media Producer, Vintage Books
October 2019: Future Proof Your Career in Publishing
How easy is it to progress in publishing and move between market sectors and different roles?
What are the key elements you need to build your career?
Focusing on their own specific work experience in moving onwards and upwards from entry level jobs, three speakers from a wide range of companies gave their unique insight into the diverse profession loosely referred to as "publishing" at our annual careers event.
Our speakers were:
• Kim Wiles – Senior Product Manager, RM Education
• Simone Drinkwater, Vice President of Business Development, Casemate Group
• Alexandra Shakespeare, Senior Lecturer in Publishing, Oxford Brookes University
This event was sponsored by Atwood Tate.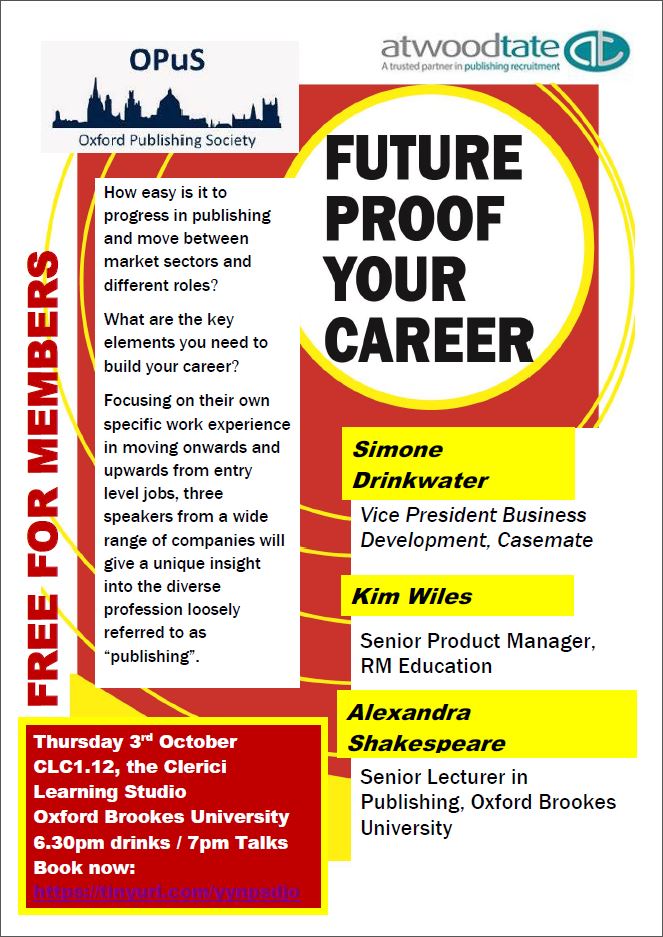 August 2019: Summer Party - joint event with SYP Oxford
We had a great time catching up with our colleagues from across the Publishing community at  The Jam Factory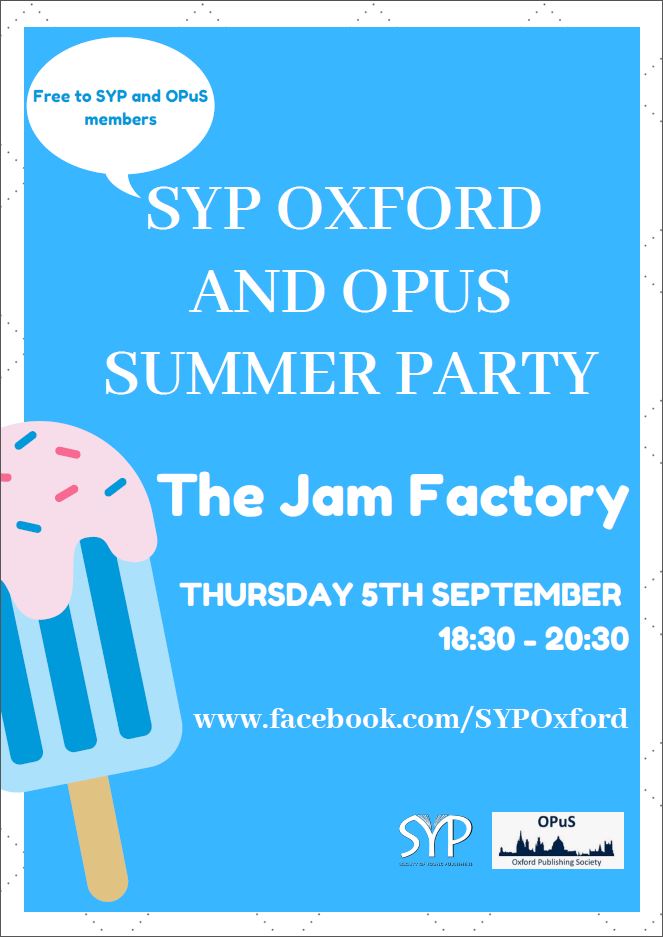 July 2019: Author Event 'Bart van Es, The Cut Out Girl'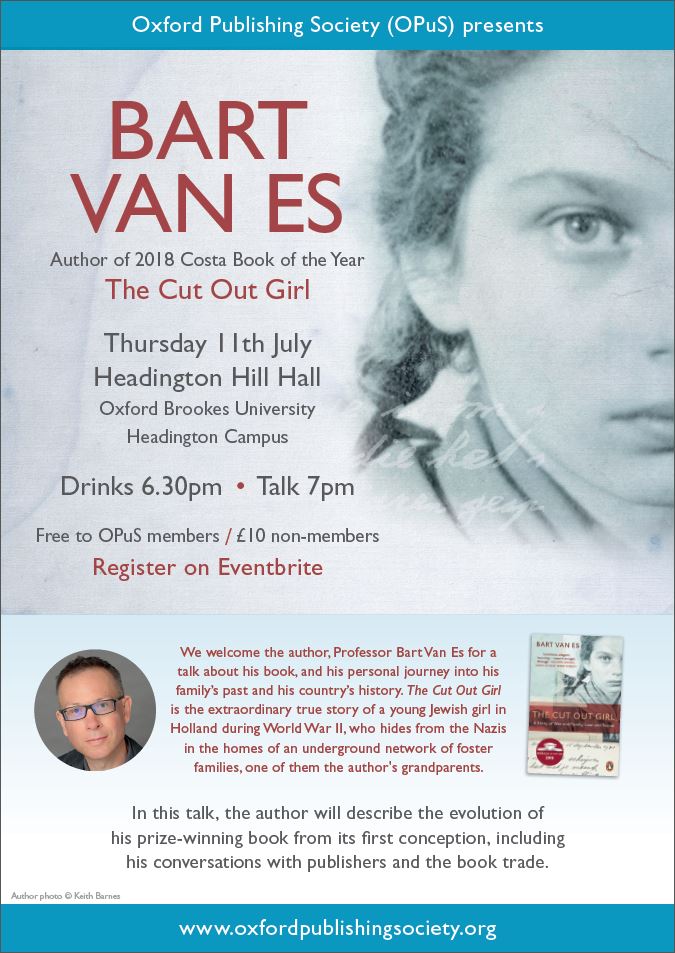 An evening with Bart van Es
Author of 2018 Costa Book of the Year, The Cut Out Girl
'After the war, the life that these hideaways had brought to the families was missing. Each girl had been imagined as a daughter or a sister only to vanish without so much as a farewell. They could not have known it, but these cut out girls left holes behind.'
For our annual author event, we welcome the author, Professor Bart Van Es for a talk on the book, and his personal journey into his family's past and his country's history. The Cut Out Girl is the extraordinary true story of a young Jewish girl in Holland during World War II, who hides from the Nazis in the homes of an underground network of foster families, one of them the author's grandparents.
In this talk, the author will describe the evolution of his prize-winning book from its first conception, including his conversations with publishers and the book trade.
Thursday 11th July
Drinks 6.30pm
Talk 7pm
Location:
Headington Hill Hall
(Oxford Brookes University, Headington Campus)
Tickets:
Free to OPuS members / £10 non-members
Register now on Eventbrite: https://www.eventbrite.co.uk/e/opus-event-an-evening-with-bart-van-es-author-of-the-cut-out-girl-tickets-62317055992#
Past Events
March 2019: 'Open Access: Who Pays?'
Everyone has heard of open access, but how many of us really understand how it works?
Gold open access research now accounts for 20% of the world's research output, and it's growing – fast. At the same time, pressure from various stakeholders means publishing models are also evolving. What makes journals 'compliant'? What about author choice? Where does the money come from, where does it end up, and why?
Our highly knowledgeable panel discussed the drivers of open access in its wider context of open research, unpicked the myriad deals and models made and implemented (or in some cases not) by publishers, and debated some of the movement's potential limitations, alongside its benefits.
Our speakers were:
• Lucy Oates, Publisher, Open Access, OUP
• Miriam Maus, VP, Editorial Management, Wiley
• Michael Brown, Consultant on STM publishing strategy and innovation
This event was sponsored by Westchester Publishing Services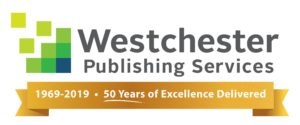 OPuS AGM - 7th February 2019
Our AGM was held on Thursday February 7th ahead of our Audiobooks event - more details including the full minutes  are available on the AGM section of the website.
February 2019: Audiobooks: The Saviours of publishing or just a good listen?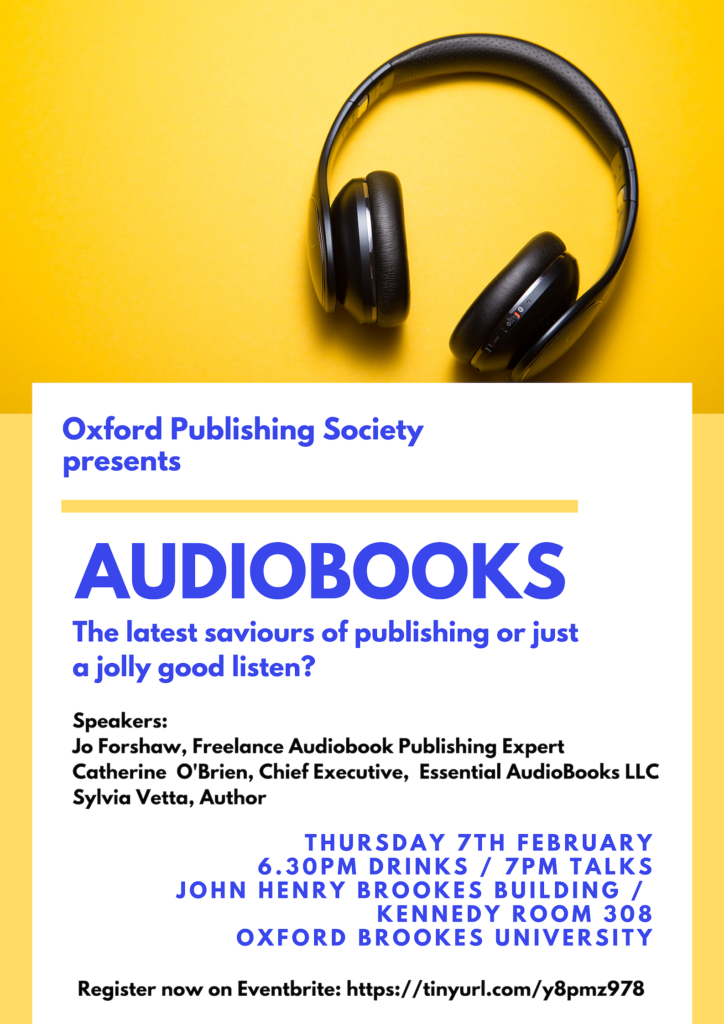 Our first event of 2019 was a fascinating look at the exponential growth of the audiobooks industry, with a varied and highly knowledgeable panel of speakers discussing their experiences and views of this rapidly changing sector.
The recent boom in audiobook sales is welcome news for the book industry and this sector is now said to be the fastest-growing area of consumer publishing. According to the PA, spending on audiobooks has more than doubled in the past five years, agents are reporting greater competition to retain audio rights when negotiating new deals, and some publishers are developing their own dedicated audiobook imprints.
Where does the industry go next? What should publishers be doing to capitalise on the opportunity and take advantage of the growing range of models and retail channels available for audio?
Our speakers (picture below with our event chair, James Harrison) were:
Jo Forshaw, Freelance Audiobook Publishing Expert
Having previously tinkered with audio as an agent, a retailer and then programmer for a wee radio station, Jo Forshaw ran the audio publishing team at HarperCollins until 2017. Taking HarperCollins from 80 titles a year to audio editions of pretty much every print title across HC via the infamous Total Audio project, Jo has overseen thousands of audiobooks, created partnerships with retailers and publishers and driven revenue up massively. Now a freelance consultant, she advises on everything audio, from strategy and programme planning and to casting and recording.
Catherine O'Brien, Chief Executive, Essential AudioBooks LLC (New York)
Essential Audiobooks was launched at the beginning of June 2016 and publishes audio editions of classic and modern literature as well as children's books. Working from their own studios to create audiobooks of the highest technical and artistic quality, their skilled and experienced narrators and producers bring the greatest classics of literature vividly to life, complete and unabridged, exactly as they were written by some of the world's finest authors.
Sylvia Vetta, Author
Sylvia is an Oxford-based author who has had an audiobook made of her first novel (by Essential Audiobooks) Brushstrokes in Time (Claret Press) and has a new book Sculpting the Elephant (Claret Press) due to be released in March 2019.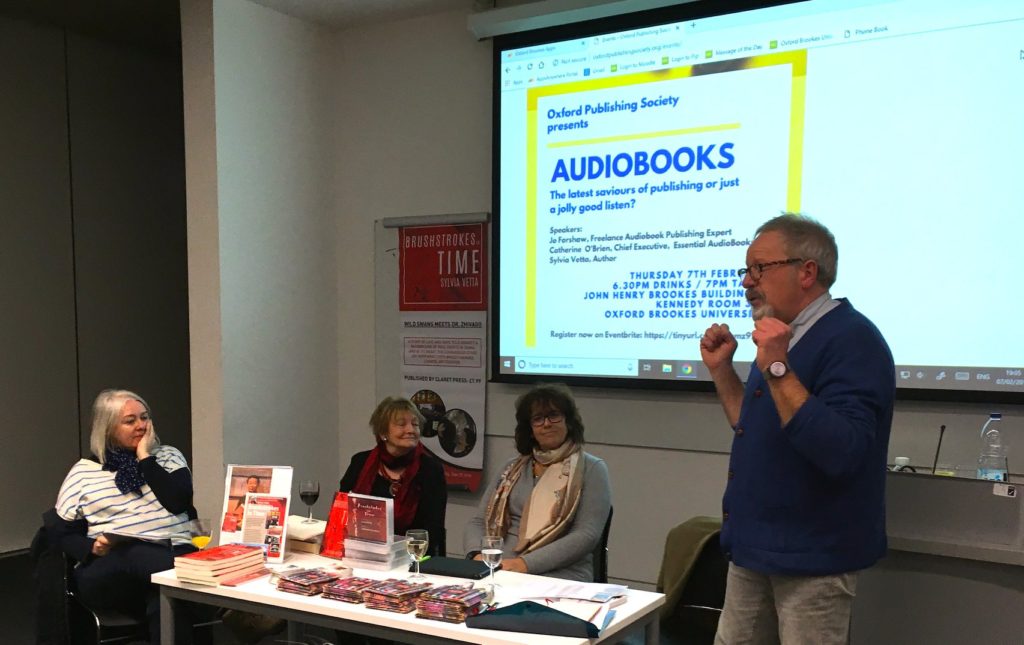 November 2018: Publishing in China - What's Next?
Our November speaker event, in collaboration with the Confucius Institute at Oxford Brookes was a lively discussion about the future of the Chinese publishing industry – and what it means for the UK publishers who want to access it.
With a population of over 1.4 billion people, China is the biggest market in the world – and with the book market estimated at over £14 billion, this means big business for publishers. With the organisers of the Beijing International Book Fair (BIBF) reporting an increase of 30% in the number of publishing professionals attending this year, international publishers are clearly keen to get a piece of the action.
Our speakers were:
Angus Phillips, Head of the School of Arts and Director of the Oxford International Centre for Publishing Studies and The Confucius Institute, Oxford Brookes
James McCall, Visiting Lecturer and Professor in International Publishing at various Chinese universities and consultant to donor agencies and governments on textbook publishing policy
Su Yen Hu, Director of Snowflake Books, an Oxford-based independent publisher of children's books drawn from ancient Chinese fairy stories and legends, with full texts in English and Chinese
September 2018: Careers in 21st Century Publishing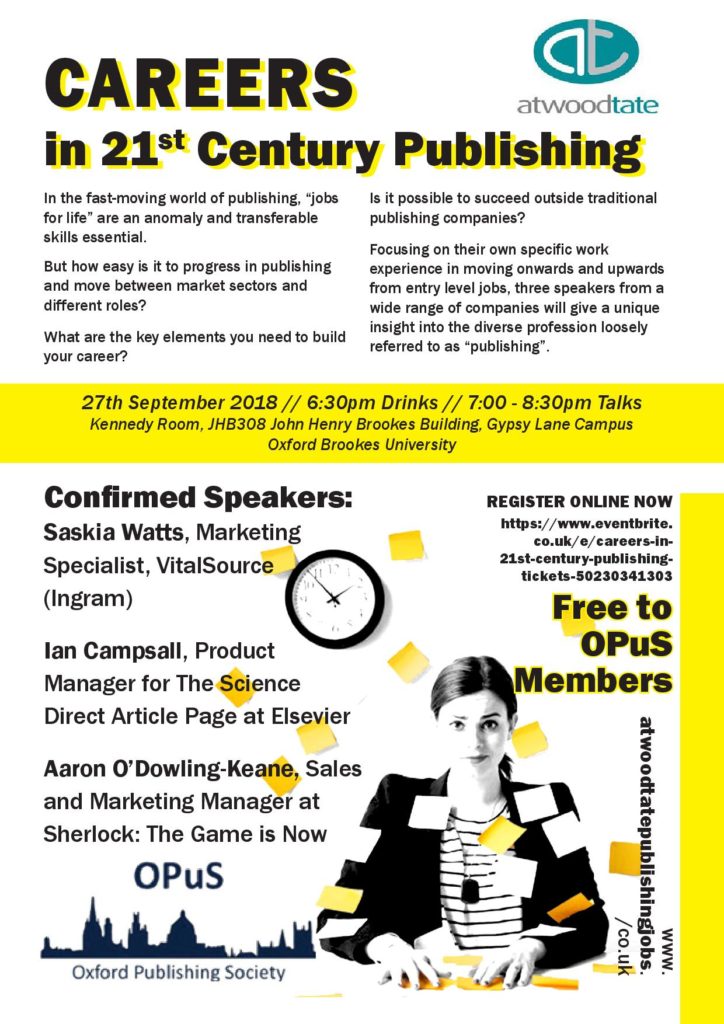 Our September event was a lively and fascinating discussion about how to develop a career in the publishing sector - from getting entry level positions, to moving between different roles, to looking for opportunities outside of the traditional publishing company. Our trio of speakers, Ian Campsall (Elsevier), Aaron O'Dowling-Keane (Sherlock: The Game is Now) and Saskia Watts (Vitalsource/Ingram) - pictured below - had some great insights on skills building and career development, based on their own varied experiences of the industry - as well as touching on the importance of a healthy work-life balance.
Our amazing sponsors, Atwood Tate wrote a blog post where you can read more about the event: https://blog.atwoodtatepublishingjobs.co.uk/21st-century-publishing-careers-oxford/ 
August 2018: OPuS and SYP (Society of Young Publishers) Joint Summer Party
May 2018: Bookselling Today - Different Perspectives
March 2018: Securing Trust and Reliability in Scholarly Publishing
February 2018: Letting Books Be Books: Breaking Gender Barriers in Children's Publishing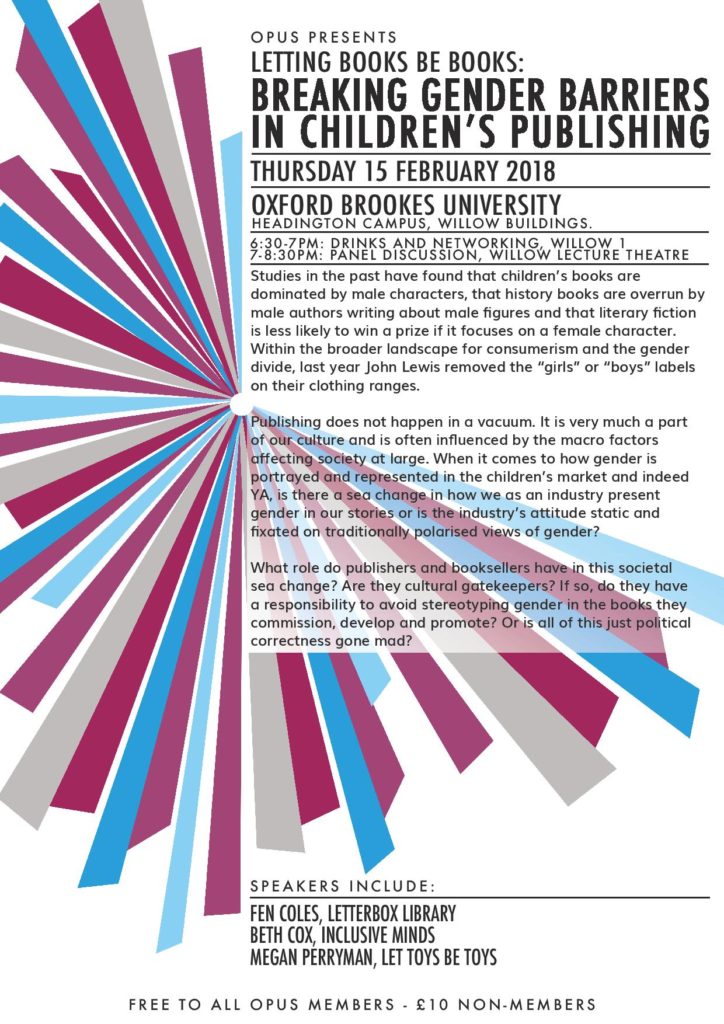 December 2017: Eat, Drink and Be Merry Christmas Party with Bookmachine
November 2017: The Future of Illustrated Publishing
You can read more about the event on the Oxford Brookes Publishing blog: https://publishing.brookes.ac.uk/blog/article/the_future_of_illustrated_publishing/