Our next event
November 2018: Publishing in China - What's Next?
What's next for the booming Chinese publishing industry – and what does this mean for the UK publishers who want to access it?
Date: Thursday 29th November 2018
Time: 6:30pm Drinks / 7:00 - 8:30pm Talks
Location: Oxford Brookes University (Gipsy Lane Campus - John Henry Brookes Building / Kennedy Room 308
FREE TO OPUS MEMBERS / £10 NON-MEMBERS
With a population of over 1.4 billion people, China is the biggest market in the world – and with the book market estimated at over £14 billion, this means big business for publishers. With the organisers of the Beijing International Book Fair (BIBF) reporting an increase of 30% in the number of publishing professionals attending this year, international publishers are clearly keen to get a piece of the action.
But what's next for the booming Chinese publishing industry– and what does this mean for the UK publishers who want to access it?
Come and join the discussion at our next speaker event!
Speakers include:
Angus Phillips, Head of the School of Arts and Director of the Oxford International Centre for Publishing Studies and The Confucius Institute, Oxford Brookes
James McCall, Visiting Lecturer and Professor in International Publishing at various Chinese universities and consultant to donor agencies and governments on textbook publishing policy
Su Yen Hu, Director of Snowflake Books, an Oxford-based independent publisher of children's books drawn from ancient Chinese fairy stories and legends, with full texts in English and Chinese
Book now!
https://www.eventbrite.co.uk/e/publishing-in-china-whats-next-tickets-52493020036
Past Events
September 2018: Careers in 21st Century Publishing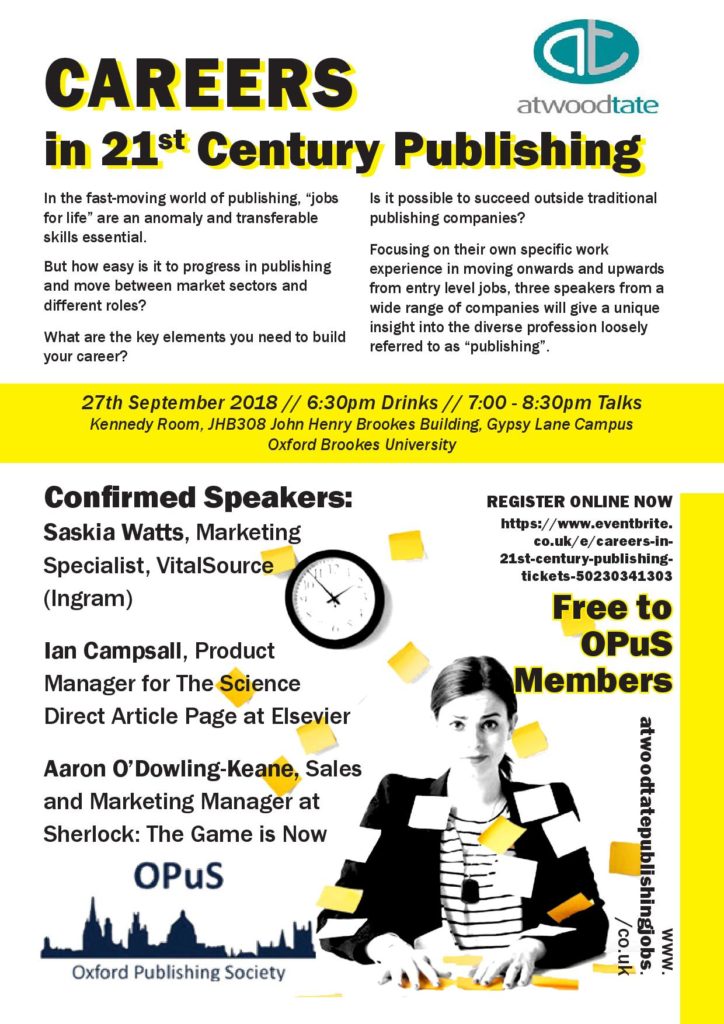 Our September event was a lively and fascinating discussion about how to develop a career in the publishing sector - from getting entry level positions, to moving between different roles, to looking for opportunities outside of the traditional publishing company. Our trio of speakers, Ian Campsall (Elsevier), Aaron O'Dowling-Keane (Sherlock: The Game is Now) and Saskia Watts (Vitalsource/Ingram) - pictured below - had some great insights on skills building and career development, based on their own varied experiences of the industry - as well as touching on the importance of a healthy work-life balance.
Our amazing sponsors, Atwood Tate wrote a blog post where you can read more about the event: https://blog.atwoodtatepublishingjobs.co.uk/21st-century-publishing-careers-oxford/ 
August 2018: OPuS and SYP (Society of Young Publishers) Joint Summer Party
May 2018: Bookselling Today - Different Perspectives
March 2018: Securing Trust and Reliability in Scholarly Publishing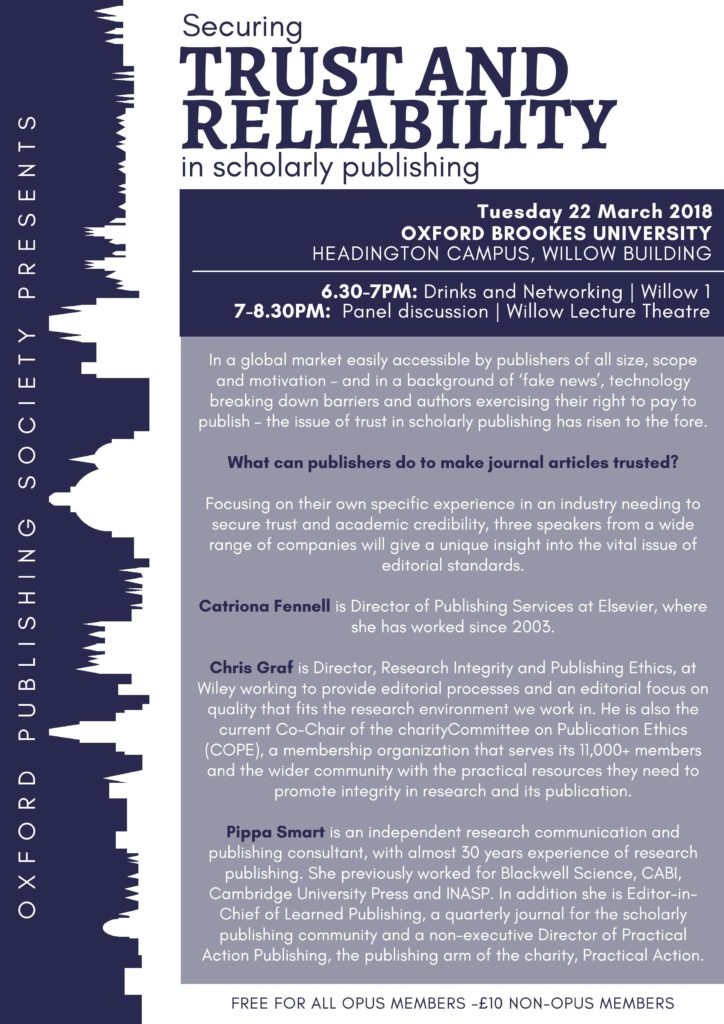 February 2018: Letting Books Be Books: Breaking Gender Barriers in Children's Publishing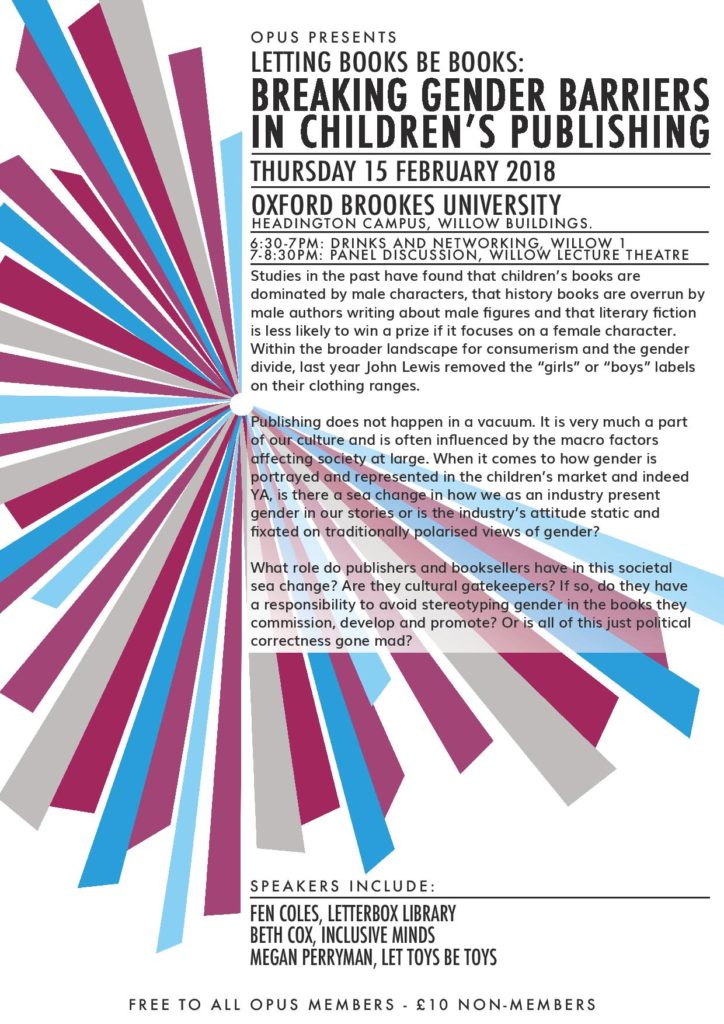 December 2017: Eat, Drink and Be Merry Christmas Party with Bookmachine
November 2017: The Future of Illustrated Publishing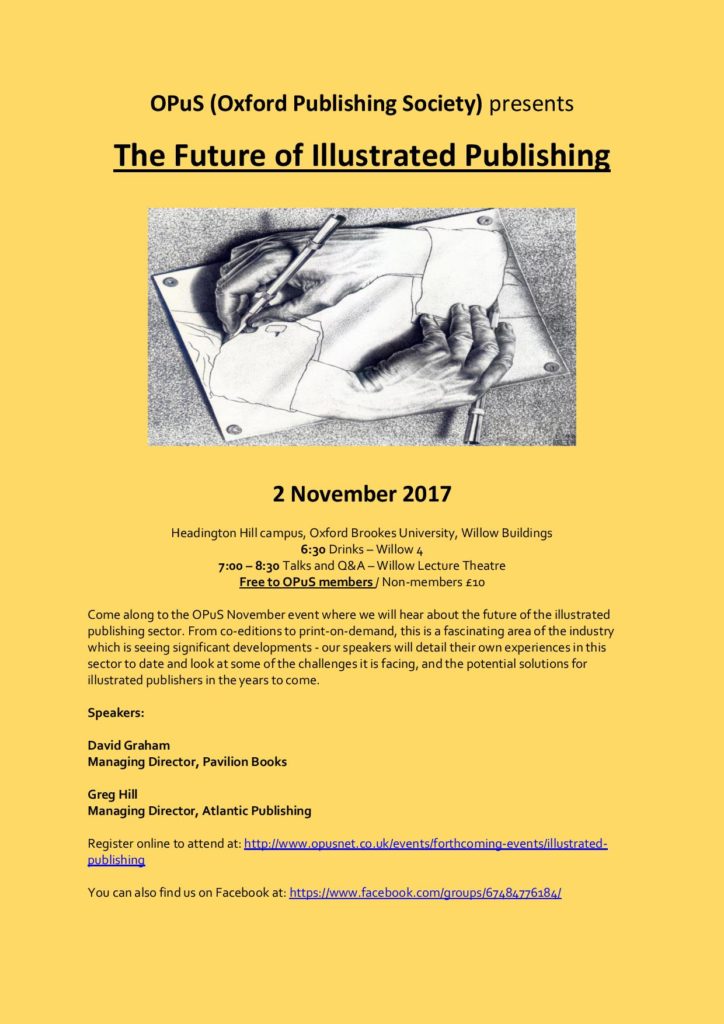 You can read more about the event on the Oxford Brookes Publishing blog: https://publishing.brookes.ac.uk/blog/article/the_future_of_illustrated_publishing/